President Helped Recast Academy's Role
FILM: #OscarsSoWhite came to define four-year tenure.
Friday, July 14, 2017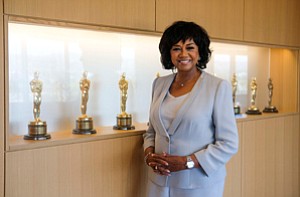 Cheryl Boone Isaacs is preparing to step down as president of the Academy of Motion Picture Arts and Sciences board of governors next month after a four-year term that some consider the most controversial in the organization's 90-year history.
Isaacs, 67, the academy's first black and third female president, was faced with the seemingly ironic challenge of convincing the public – and many in the industry – that the academy was not a racist institution.
The furor erupted after all-white slates of nominees were put forth in the four major Oscar acting categories in 2015. A social media campaign dubbed #OscarsSoWhite ensued, prompting a number of emotional comments from Hollywood power players, with some, including Will Smith and Jada Pinkett Smith, choosing to boycott the ceremony.
Isaacs said during a recent interview at the academy's Beverly Hills headquarters that the organization got swept up in a national – and international – debate over diversity.
"Because there is a lot of interest in the organization, and in the Oscars worldwide, it pushed us further into the spotlight of an existing discussion going on in the United States," Isaacs said. "It brought the debate into the glamour space, into the celebrity space."
She embraced the circumstance.
British-Nigerian actor David Oyelowo starred as Martin Luther King Jr. in the biopic "Selma," which received a best picture nomination that year. Despite critical acclaim, Oyelowo was not nominated for best actor. "Selma" director Ava DuVernay, who had earned the distinction of being the first black woman to direct a best picture-nominated film, was not nominated for best director. The perceived double snub became a centerpiece for the #OscarsSoWhite movement.
Oyelowo said he can't remember which of the many post-Oscar nomination parties put him in the same room with Isaacs, but he did recall the academy president was quick to agree to a private meeting away from the party circuit to talk about the controversy.
"I think it was something that took the academy by surprise, and it took (the 'Selma' team) by surprise," Oyelowo said. "Everywhere I went, I was being asked to give voice to this thing. I also felt like we were being pitted against each other, the film and the academy."
The actor said his discussion with Isaacs wasn't going to come close to solving the academy's knotty problems of diversity and inclusion, but he noted the frank discussion helped the "Selma" movie makers and the academy figure out how to speak with one voice going forward.
Isaacs tends to downplay the significance of her own race and gender in her long Hollywood career.
"You do that and it's over from the start," she said. "People say to me: What did it feel like to be the first African female (president)? It's kind of a hard question for me to answer, because I've always been an African-American woman. What, in a world of a lot of white people? I mean, I'm in America."
Oyelowo said he believes Isaacs' visibility as a black woman leveraged her power to change the game.
"Something I've come to realize with the entertainment industry is, rightly or wrongly, perception is to a certain degree reality," he said. "It was the perception of power in a very white and male-dominated institution. She was able to get into rooms, get in front of people. She did more with that position than I would argue has been done in the past."
Isaacs reiterated that however rocky the #OscarsSoWhite controversy might have been, it served as a catalyst for changes the academy was already ready to make.
"It's still moving toward a goal," she said. "I think these last couple of years have been just that."
The academy's board is set to elect a new president on Aug. 8. So, what goals does Isaacs have for herself now that her academy tenure is coming to an end?
Making movies, for a start.
"The idea of creating, which I have not done, is very interesting to me," she said. Isaacs added that she'll likely continue to teach film marketing, which she has done on and off for 20 years at various colleges, including USC and Chapman University.
Isaacs said she will continue to lead the discussion of inclusion wherever she ends up.
The relentlessly positive Isaacs has even found a silver lining to the show-stopping gaffe at this year's Academy Awards that saw Faye Dunaway announce "La La Land" as best picture instead of the actual winner, "Moonlight."
The gaffe was reportedly prompted by a PricewaterhouseCoopers representative handing the wrong envelope to Warren Beatty.
While many observers noted it took a long time for the mix-up to be corrected, Isaacs said the production team responded quickly once they realized the mistake.
"It was 2½ minutes," she said. "What I will always say about that situation was, the show was fantastic. It was everything that you want from an Oscar show. When it's perfect, everybody says there are no surprises."
EMMYS: Actors Leave Their Mark By Working From The Director's Chair
Deadline Hollywood | August 12, 2014 | Diane Haithman

The answer is one of Hollywood's oldest clichés: Ask an actor about career aspirations and you'll get some variation of, "What I really want to do is direct." Well, maybe they all don't want to, but it certainly tops many an actor's bucket list. The desire to move into the director's chair seems to have become a natural progression for several series television performers. While some filmmakers—Woody Allen and David O. Russell among them—tend to return to the same crop of talent, an actor on a successful TV series has an unparalleled opportunity to develop an intimate connection with a creative team over the course of a long-lasting storyline. Read the Rest of this Story »
---
EMMYS: 'Modern Family's Chris Lloyd
Deadline Hollywood | June 13, 2011 | Diane Haithman
Christopher Lloyd is co-creator and co-showrunner with Steven Levitan (his Q&A here) of last year's Emmy winner for Outstanding Comedy Series, Modern Family. But Lloyd didn't go onstage to accept the accolade. This recipient of eight Emmys for his work on comedy series including Frasier and The Golden Girls prefers to stay in the shadows and let his chatty partner bask in all the public limelight. Now, Lloyd breaks his silence and talks to Deadline TV Contributor Diane Haithman for an interview one TV publicist claimed was harder to nab than "a sitdown with Osama Bin Laden": Read the Rest of this Story »
---
EMMYS: 10 Dramas Pick Best Episodes
Deadline Hollywood | June 23, 2011 | Diane Haithman

Drama series producers agonize over their selection of up to six episodes for 2011 Emmy nomination consideration. Here's insight from Deadline TV Contributor Diane Haithman into why these particular episodes were thought to impress Emmy voters: Read the Rest of this Story »
---
Author Michael Connelly vs Paramount:
How Harry Bosch Was Rescued From
Hollywood Development Hell
Deadline Hollywood | December 17, 2010| Diane Haithman

Stories about rights-holders fall into two categories: either they're the bully or the victim. Until recently, crime novelist Michael Connelly fell into the latter category. Michael Connelly finally has back his Hieronymous "Harry" Bosch character which appears in 15 of his 22 books. Harry Bosch is a brooding Los Angeles Police Department detective named, appropriately, after an early Dutch painter known for his eccentric visions of hell. And since 1995, Bosch has been in Hollywood development hell. Read the Rest of this Story »
---
Fetching work in Hollywood
LOS ANGELES TIMES | April 08, 2009 | Diane Haithman
In L.A., the myth that everyone is waiting to be discovered just won't die, fueled perhaps by the remote possibility that a casting director will one day walk into a Pinkberry and tap the guy behind the counter to portray, with moving realism, the guy behind a Pinkberry counter. Read the Rest of this Story »